Seek The Things That Are Above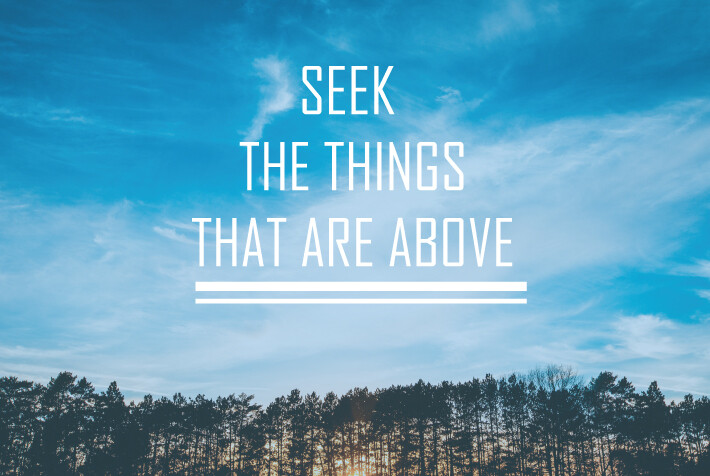 Each one of us is experiencing this season differently. For some it is a time of slowing down, for others things are moving at a faster pace. For many fear, anxiety and isolation are hard realities to fight. The news keeps coming (sometimes good, but often heavy). We are stuck in a season of change that seems to be lingering with no clear outlines or timeframes. We are all facing challenges and this season will be one we look back on and tell stories about.
Like many I have felt the swirl of emotions, bouncing between hope and discouragement. Yet a lingering voice says, "I am still in control, I still have a plan".
Colossians 3:1-4 says this:
"If then, you were raised with Christ, seek those things which are above, where Christ is, sitting at the right hand of God. 2 Set your mind on things above not on things on the earth. 3 For you died, and your life is hidden with Christ in God. 4 When Christ who is our life appears, then you will also appear with Him in glory".
We are those who have been raised with Christ and He is calling us to set our minds on the things above, on His kingdom, His plans, His thoughts. In the chaos of this season, Jesus has been calling me to refocus my attention. He has been reminding me that though I am here on the earth, my ultimate citizenship is in heaven and that is where I should be getting my "news" from. We are called to look up, not ignoring what is in front of or around us, but not becoming fixated on them either. With the noise this world creates it is easy to be distracted and allow fear and worry to overtake our minds and emotions.
The Scripture reminds us that we have been "transformed into a new creation" (Galatians 6:15), we are "temporary residents and foreigners" in this world (I Peter 2:11), and our lives are "hidden with Christ in God" (Colossians 3:3). Oh, what a place to be hidden that is, friends! When worry or fear comes it will have a hard time finding us for, we are hidden well under the shadow of His wings. Fear and worry come to rob us, clouding our minds and getting us off track. If we will hide ourselves in Christ and allow Him to be our source then we can work with our Creator and look to the future, entering into the opportunities that may await us if we have eyes to see and ears to hear.
Some of the ways that I like to take time to dwell in Him is through worship, one particular song that is speaking to me is "Thank You" by Maverick city music, I find it helps me refocus and get my eyes back on Him in a spirit of gratefulness.
I also make it a practice to ask the Holy Spirit what passage He would like me to read, He will often give me a scripture address. I might reread that same passage for multiple days and just let it get deep. The passage above was one such passage.
Church, I invite you to take time to dwell in the hiding place, hidden in Christ with God, seeking that which is above, taking your mind off the things of this world. Remember who He is, who He has created you to be and look with fresh expectant eyes to see what might be awaiting you.