Human Sexuality Resources List
It is no accident that the Song of Songs as a set of passionate and even explicit love poems is included in the Bible. We are all sexual beings, so it makes perfect sense that God would want to have this conversation with us. In the creation account of Genesis, God affirms that we are all created in his image, including our sexuality. And yet, speaking about human sexuality in the context of God's church is often uncomfortable and overlooked. When the church stays silent on key issues of our being, people still come to their own conclusions and practically live those conclusions out in daily life. So speaking into human sexuality, while potentially controversial or awkward, can and should be a healthy and proactive experience for our Jericho Ridge community.
As God's people, we want to be equipped and leading sexual conversations within our meaningful relationships on all fronts, including areas such as: marriage, singleness, divorce, femininity, masculinity, homosexuality, gender identity, dating, intimacy, boundaries and more... Our sexuality is an essential part of being human and in knowing each other and our God. As we re-integrate this topic into our conversation and practical theology as Christians, we can redeem sexuality and marriage from society's misuse and abuse and allow God's love to be reflected through us into the lives of others. In order to help us do this well, we offer this list of written resources. Recognizing that this list is by no means exhaustive and that we may not agree with all the content or conclusions, we trust that these resources will provide a meaningful launching pad for you in your conversations and practices.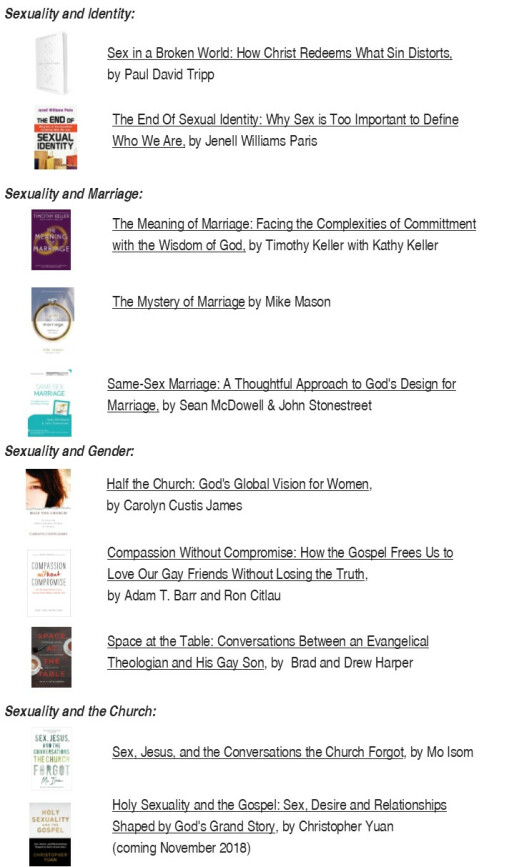 If you have any recommendations of resources for us, we'd love to hear from you. Or, if you have questions, concerns, or simply want to follow up on our sermon series or readings in any way, please do not hesitate to contact one of our pastoral staff.
- Pastor Wally