Short Term Missions
Global Service Opportunities
One of our core values is Glocal Service and one of the ways that Jericho Ridge is living this out is by inviting you to invest in two key international ministries.
Guatemala 2018
Each year, JRCC sends a serving team to this Central American country to serve with our partners, Bethel Ministries.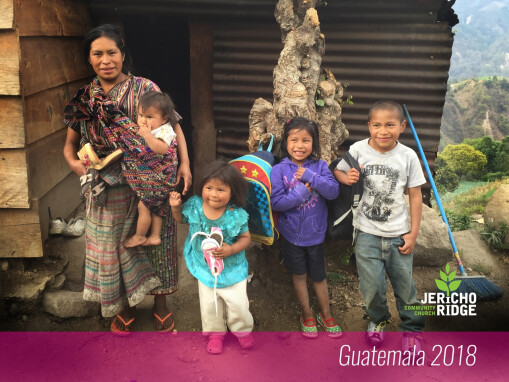 JRCC is sending our 11th team to Guatemala March 17-25, 2018! The focus of the trip is to share the love of Jesus through actions, specifically to orphans, widows, the physically challenged and poor families. Our team of 13 individuals are planning on building 2 small homes and distributing food and clothing to families in need with the main focus of the trip being a large wheelchair distribution for those with mobility challenges.
If you are considering contributing to our Guatemala projects or supporting a team member, you can do so in the following ways:
In Person - Cash, Cheque or Debit on Sundays
Online - Click here (select "Guatemala" as the fund and once you have completed your online gift please e-mail to indicate how you would like to designate your gift ie: wheelchairs, housing, personal team member support)
By Mail - Cheques payable to Jericho Ridge Community Church with "Guatemala 2018" in the memo line (please include a note on a separate piece of paper to indicate the designation of your gift ie: wheelchairs, housing, food packs, personal team member support). Mail to 225 - 7888 200 St., Langley BC, V2Y3J4
All financial gifts $20 or more will receive a tax receipt at the end of the year. For more information on our giving policies click here.
Here's a glimpse of how one of our past teams shared the love of God with others during their one-week stay:
If you have any questions about the Guatemala trip or would like more information on how you can financially support our Guatemala projects please contact Tammy Smethurst ( )
Tanzania
In 2013, Under The Same Sun (UTSS) & Jericho Ridge hosted the first-ever summer camp for children with albinism in Tanzania, East Africa. It was deemed a strong success and so in the summer of 2016, we sent a group of volunteers from JRCC and other local churches to invest two weeks in July serving and learning alongside UTSS Tanzania staff, local university students and a partner church (BMCC) in Mwanza, Tanzania for a repeat of summer camp for approximately 170 children with albinism. Here's a video highlighting the work...
If you have any questions about the Tanzania trip or would like more information on how you can support or participate in the ongoing work of Under The Same Sun, please e-mail Brad Sumner.