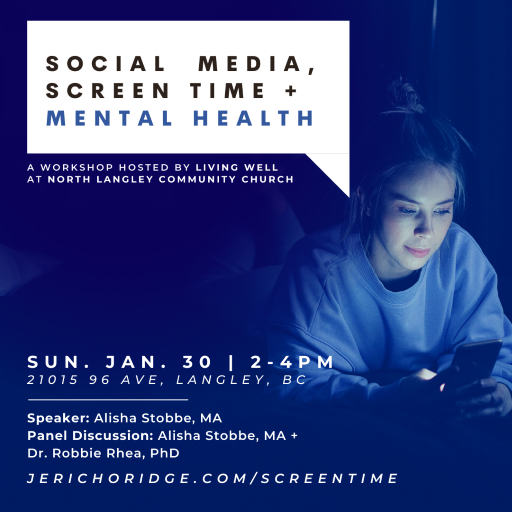 Sunday, January 30, 2022, 2:00 PM - 4:00 PM
Childcare is provided by registration. Please click here to register.
Main Speaker: Alisha Stobbe, MA-MFT, clinical counsellor at Experience Change
Join us for a stimulating presentation on the mental health impact of social media and screen time. Our main speaker, Alisha Stobbe, is a clinical counsellor with expertise in the impacts of screens on children and teens, teen sexting, online sexual exploitation of children, and anxiety among children and teens. She is the founder and director of Experience Change Counselling, based in Surrey, BC. Website: experiencechange.ca
The workshop will be followed by a panel discussion with Alisha Stobbe and Dr. Robbie Rhea, Associate Vice-President of Student Life at Trinity Western University. Dr. Rhea's research interests include the impact of pornography and video games on spiritual formation and development. The event is for parents, teens, young adults, teachers and anyone else impacted by social media and screen time.
Hosted by Living Well - Living Well is a peer-lead support group for those dealing with mental health challenges and their family members. The group meets on the second and fourth Tuesday at NLCC. For more information or to join the group, please visit nlcc.ca/livingwell