COVID-19 Update - November 19, 2020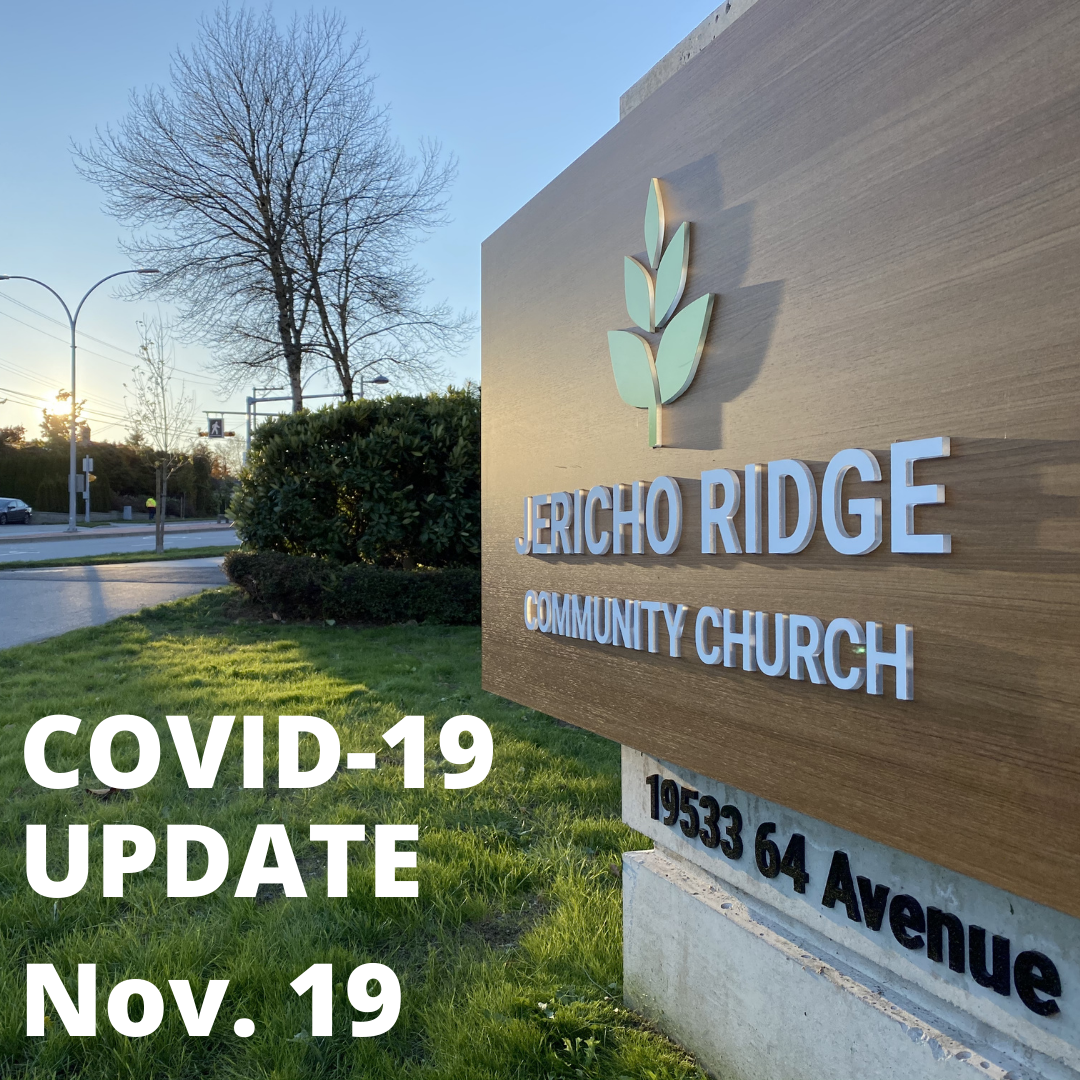 This afternoon Dr. Bonnie Henry gave a general news conference for the public outlining Government guidelines regarding the latest COVID-19 restrictions. We want to give you some highlights of these new guidelines as they pertain to faith communities:
As of today, November 19

th

indoor worship gatherings and social gatherings of any size will no longer be allowed.

Meetings focused on addictions or mental health support may continue with groups under 10 and using appropriate Covid protocols. All other group meetings are postponed.

Baptisms, weddings, funerals are restricted to family members only with the 10 person maximum guideline applied.

Staff working in church offices who are able to work from home are encouraged to work from home (JRCC staff have been given this option)

While events and gatherings are being shut down, facilities can remain open (currently, the Jericho Centre will remain open).

These restrictions are province wide and will be reviewed to determine their effectiveness over the next month and will be in force until further notice.
So, what does this mean for Jericho Ridge Community Church? First and foremost, it means that Jericho Ridge is pivoting back to online worship gatherings only. Starting this Sunday and through to December 20, we invite you to join us in our online gatherings. To do so, simply visit
jerichoridge.com
,
scroll down and click on the "Join Livestream Now" button. Currently, we do not know how this may impact our planned Christmas Eve gatherings, but we will update you as that day draws closer. In the meantime, let's be praying for the health of our communities.
Secondly, all other group meetings are moved online or postponed. This includes the following:
Sunday's

Annual Vision Night

at 6PM is online only.

All

small groups

, if not already, are returning to meeting online.

Prayer Gathering

has been moved back to online only. For the Zoom link, please email

Pastor Wally

Youth

, under the leadership of

Pastor Jason

, will transition to online meeting starting tonight. Please check the

Proximity Instagram

for details.

Fuel

, under the leadership of

Pastor Jenna

is suspended for now. Pastor Jenna will be in contact with those families affected.
As we did earlier in the spring of this year, we are committed to remaining an active and vibrant expression of God's people in our community. While that now looks different once again, we continue to worship and live for the King of Kings and Lord of Lords. So let's be intentional in reaching out to those around us and inviting them to join us to the hope we have in Jesus, particularly as we anticipate the coming Advent and Christmas season. Let's remember and live into Paul's words in Romans 12:11-13,
11 Never grow tired, but work hard and serve the Lord enthusiastically. 12 Rejoice in our confident hope. Be patient in trouble, and keep on praying. 13 When God's people are in need, be ready to help them. Always be eager to practice hospitality.
Lastly, as we transition again into these tighter guidelines, if you find that you have a need or just want someone to talk to, please don't hesitate to reach out to each other and to contact our pastoral team. Together, we want to be for and with each other in Christ.
On behalf of the Jericho staff,